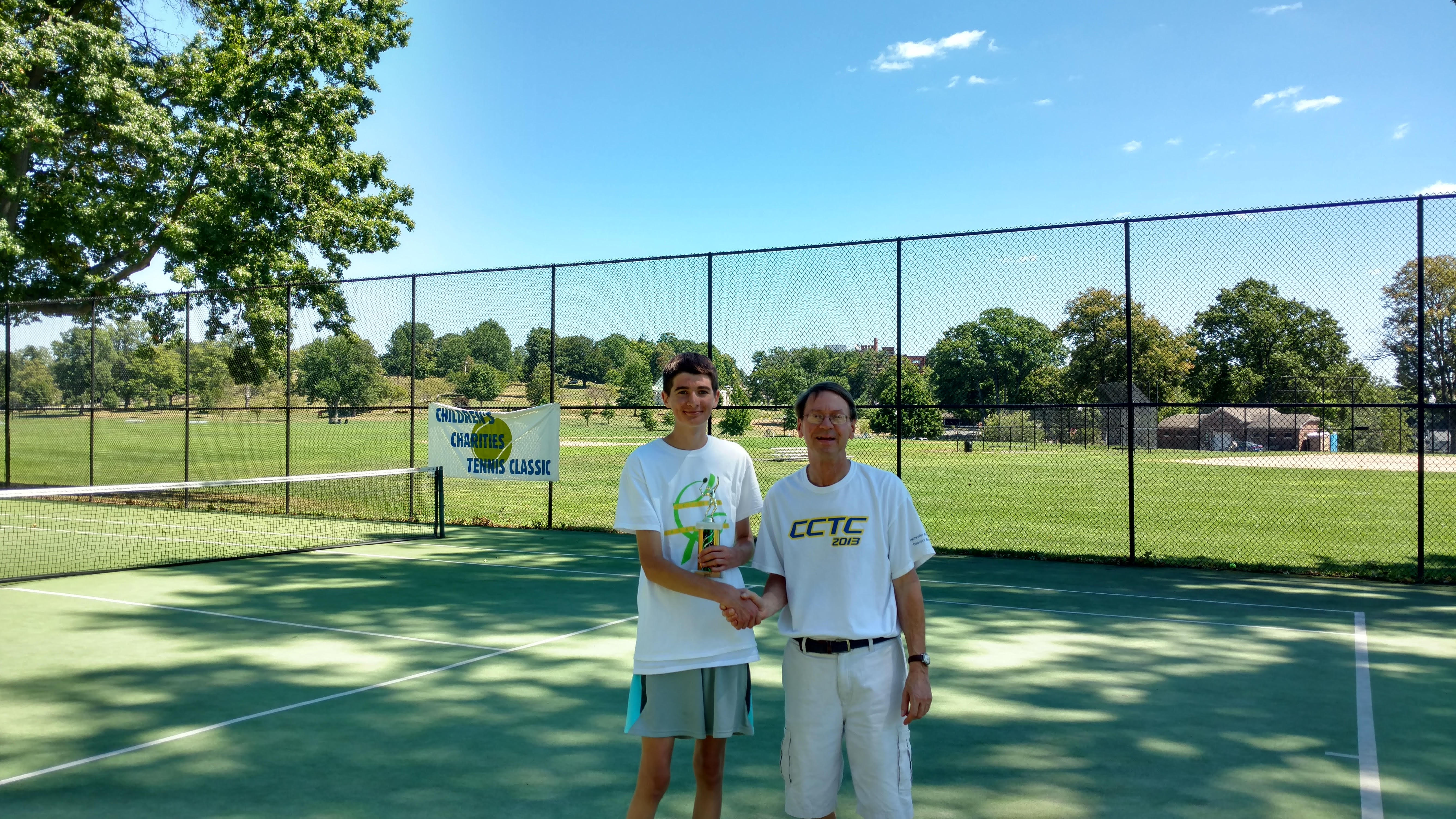 Welcome to Children's Charities Tennis Classic!
A Charity Tennis Tournament Running for 40 years
in New Britain CT

Our 41st annual tournament will be held August 17 & 18 at the New Britain High School Tennis Courts here in New Britain. There will be several divisions with youngsters from ages 10 through adult competing from throughout the region to help raise money….and awareness... for autism. We even have a parent/child doubles division!
Divisions
This year we will have 9 different divisions.
Boys Jr Singles
Boys High School Singles
Grand Masters (guys age 19 & up)
Open High School Doubles (boys and/or girls)
Open Junior Doubles (boys and/or girls)
Open Adult Doubles (men and/or women age 19 & over)
Parent/Child Doubles
Girl Jr. Singles
Girls High School Singles
Registration
Free Tournament t-shirt to the first 30 players who register!
Please make ck or money order payable to: "Hospital For Special Care Foundation" and mail to: Don Lukowski, CCTC 2019 – 372 Commonwealth Ave. New Britain, CT 06053. You can also e-mail your entry form to: DonL7533@aol.com
Requested Entry Fee
$20 for singles and $20 per doubles team.
Deadline date for entry
Saturday August 10.
Tournament Dates
Saturday August 17 and Sunday afternoon August 18.
Our Mission
We, the Children's Charities Tennis Classic, have made it our goal over these past four decades to make life better for young people. Over these four decades, we have raised just over $160,000 for various pediatric programs and projects here in New Britain!
So, this year I am pleased to state that our 2019 beneficiary will, once again, be the Hospital for Special Care's Partial Hospitalization Program for autistic youth as well as support for the new building for Autism Services on their main campus.
The Hospital for Special Care is a wonderful place and its staff does much to better the lives of youth on the autism spectrum. However, they cannot do it alone. They need the support of people like us to help them achieve their needs and goals. So, the challenge awaits us. We have set a goal of $5,000. Would you please consider partnering with me to help make the road for those with autism better? I realize that you have many obligations and that many others call upon you as well, all for worthy causes. But I ask you, most sincerely, to consider helping me in this great cause for our special youth. It is important to note that our little tournament has existed for all these many years, not only because of those young people who take the time to participate on the court, but also due to the kindness and generosity of our sponsor's hearts. You've heard the saying, life is what you make of it. So, I ask you, most sincerely, will you please join with me in trying to make life better for those great youngsters on the spectrum? Thanks so much for taking the time to read my letter and accompanying information. I hope you and your family have a wonderful summer and I sincerely look forward to hearing from you soon!
Sincerely,
Don Lukowski
Founder and Chair
MAKE A DONATION
If you would like to make a donation towards our cause, please feel free to mail your check or money order made payable to "Hospital of Special Care Foundation" to Don Lukowski - 372 Commonwealth Ave New Britain , CT 06053