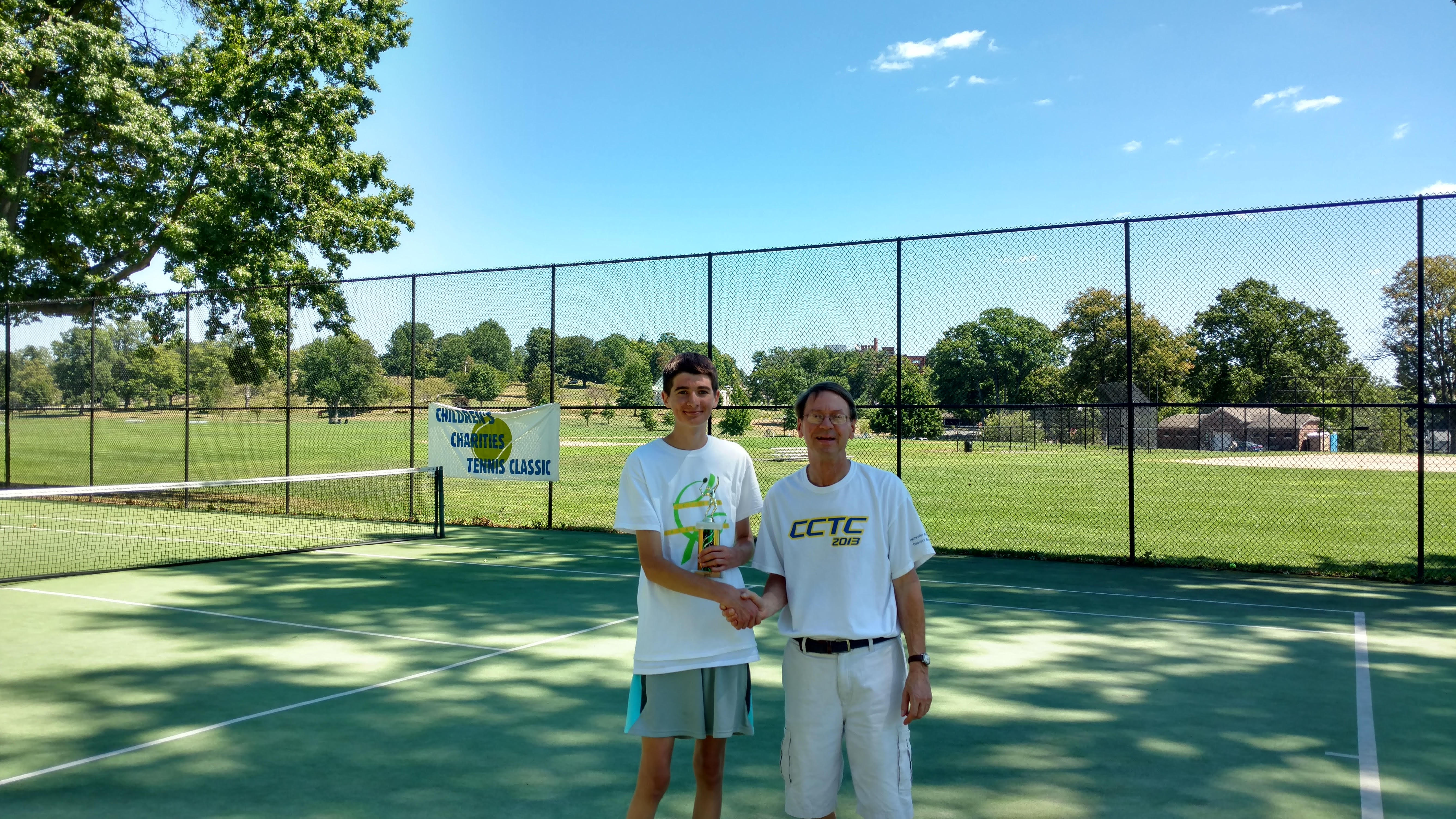 Welcome to Children's Charities Tennis Classic!
A Charity Tennis Tournament Running for over 40 years
in New Britain CT

We are happy to announce that we are still planning to have a tournament this year!!
Our 42st annual tournament will be held August 8 & 9 at the New Britain High School Tennis Courts.
There will be several divisions with youngsters from ages 10 through adult competing from throughout the region to help raise money….and awareness... for autism.
To ensure the safety and well-being of all players and staff we will be enforcing some Covid-19 Guidelines.

Everyone is required to wear a mask when not playing. When on the court, masks are not required.
Everyone needs to bring their own tennis balls with intials on them. You must serve with your own tennis balls and are not allowed to touch your opponent's tennis balls.
Social distancing is required throughout the area.
There will be no food or drink available. You would have to bring your own food and water. There will be no sharing of any food or drinks.
If you are not feeling well within 5-7 days of the CCTC, we would ask that you do not play. Your fee would be refunded.
If, for some reason, government guidelines change and we have to cancel the CCTC, your entry fee would be refunded to you.
Divisions
This year we will have 8 different divisions. Please note doubles will only be for relatives
Boys Jr Singles
Boys High School Singles
Grand Masters (guys age 19 & up)
Family Doubles (must be a relative: any age)
Parent/Child Doubles (child must be 18 or under)
Adult Open Singles (age 25 & up)
Girl Jr. Singles
Girls High School Singles
Registration
Please make ck or money order payable to: "Hospital For Special Care Foundation" and mail to:
Hubert Bis, CCTC 2020 – 431 Churchill Dr, Newington CT 06111. You can also e-mail your entry form to: hubbis94@gmail.com
Requested Entry Fee
$20 for singles and $20 per doubles team.
Deadline date for entry
Saturday August 1.
Tournament Dates
Saturday August 8 and Sunday afternoon August 9.
Our Mission
We, the Children's Charities Tennis Classic, have made it our goal over these past four decades to make life better for young people. Over these four decades, we have raised just over $160,000 for various pediatric programs and projects here in New Britain!
So, this year I am pleased to announce that our 2020 donations will once again support the newly constructed Autism Center at the Hospital For Special Care.
This Autism Center is really one of its kind in CT, and, once completed, will give those special young people on the spectrum, a place of hope and caring. The great staff at the Hospital for Special Care has done much to help those with autism, and this new facility will enhance their abilities to bring hope to those in need. The struggle with autism is tough. It seemingly locks you out of the real world. Our support will hopefully help to unlock the difficulties of those on the spectrum - giving them the hope they need for a brighter day.
We will have certain guidelines and practices in place to make the 42nd CCTC a safe and healthy place to play. And I will once again, send out the guidelines to those who enter. Always remember that my first priority is your health and well being.
Yes, the CCTC will be much different this year. But, one thing will not change, and that is our commitment to help build a brighter day for those in need. So, will you please consider playing this year? We need your support on the court to make this happen. I am so grateful for your support and participation in the past.
Sincerely,
Don Lukowski
Founder and Chair
MAKE A DONATION
If you would like to make a donation towards our cause, please feel free to mail your check or money order made payable to "Hospital of Special Care Foundation" to Hubert Bis - 431 Churchill Dr, Newington CT 06111